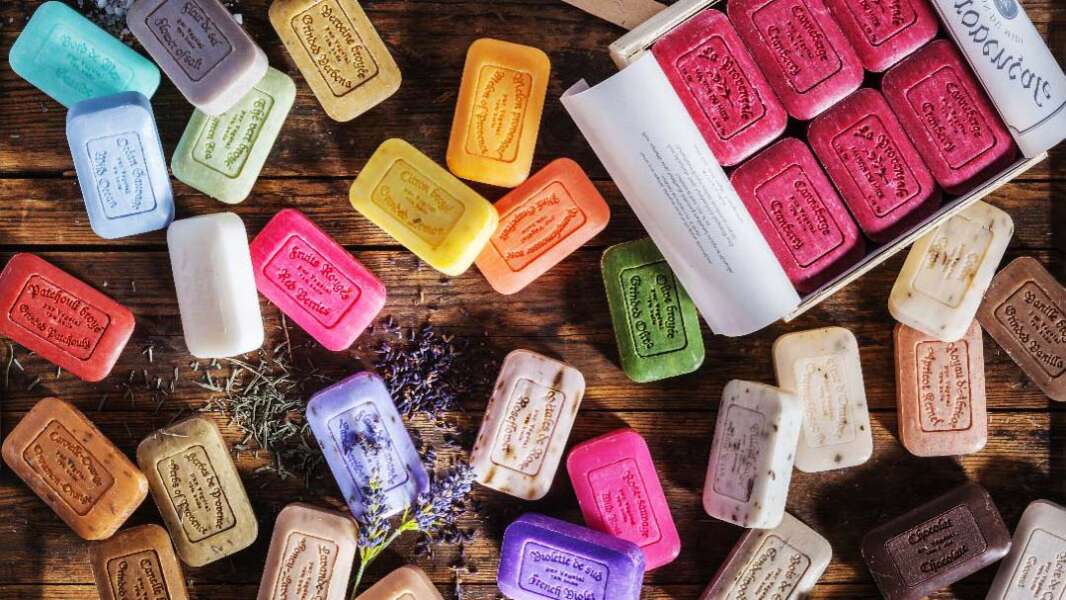 Savon de Marseille 125g
These are the classic soap bars in our assortment of fine Savon de Marseille. As all our soaps, they are completely plant based and 100% VEGAN, with at least 72% vegetal oils in total mass. Please note that our soap is a manufactured product, NOT industrially mas produced. Therefore, color may vary from batch to batch. The depicted photos give you an orientation of what our soaps colors look like, but may not always be 100% accurate. We offer you a choice of 45 fragrances of the most beautiful soaps.
We carry classical feminine perfumes, like "Violet of South" and "Jasmine", and traditionally masculine scents, like "Sandal Wood" or "Wild Country". Of course, there is also a wide range of unisex scents such as "Lime-Basil", "Verbena", and "Sunny Marseille". Our Savon de Marseille can be sorted into four alluring categories of fragrances. In the "Floral" category, you will find, among others, the classics "Lavender", "Rose", "Violet", and "Jasmin". We even offer different versions of "Lavender" and "Rose", each with as well as without ground flower petals as an added peeling effect. The category "Fruity" offers delicious scents like "Grenadine", "Melon", "Lemon", and "Fig". The category "fresh & spicy" includes classics like "Verbena", "Herbs of the Provence", but also more exotic scents like "Black Night" and "Seaside". Our fourth category is "Warm & Sweet". Here, you find scents such as "Vanilla", "Honey-Lavender", "Almond", and "Coconut".
The classical shape of the soap bar has a nice haptic feel. We consciously designed our molds to fit large 125g bars; that way we set ourselves apart from our competitors, who offer only 100g soap bars at the same price level. Our soap bars perfectly fit our olive wood soap trays - take a look at them in the category "Bathroom & Wellness" in the menu on the left!
Top offers

Savon de Marseille 125gr. Lavendel der Provence

Savon de Marseille 125gr Rosenblüte